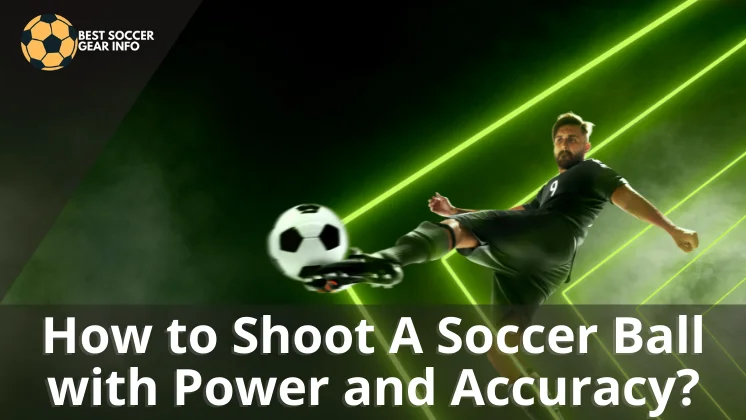 Learn some of the most essential shooting skills used by soccer players to take control of ball. Along with how you can shoot a soccer ball with power and accuracy, tips and advice you will also know about the questions:-
How to Kick A Soccer Ball in The Air?
How to Shoot A Football Long Range?
How to Shoot A Soccer Ball with Curve?
How to Kick A Soccer Ball with Power and High?
While partaking in a soccer attack, you will find yourself in various scoring conditions. Different situations will require you to use diverse types of shooting techniques. If you want to become a consistent and efficient goal scorer, you will have to regular practice at becoming an experienced shooter of soccer ball. It is the ability of good player to score from anywhere on the soccer field by shooting the ball.
Improving your shot as a soccer player is one of the valuable skill to develop. Although to become master of this skill required time, practice, patience, and knowing the essentials behind being able to kick a soccer ball with power is important to yours game.
How to Shoot A Soccer Ball with Power and Accuracy?
When you will play with combination of talent, confidence, and understanding, then following tips will provide the guidance necessary to score the best goals opportunities of your career.
1. Make Distance from The Ball
If want to gain ample power and accuracy behind your kick, keep yourself from the ball at correct distance is the critical first step to kick a soccer ball with power. Being too close is a fundamental mistake that is frequently made, when trying to put sufficient power behind a ball.
Before taking your final step toward to ball for shooting, putting a few feet between you and the ball is essential. While practicing, make sure your stride stops automatically before the ball at the similar distance each time.
2. Relax Your Body
Sportspersons, particularly soccer players, hold a lot of pressure in their body while playing. The next step is how to kick a soccer ball with power, permitting your body, especially your neck, head, and legs; to relax is significant to putting the perfect volume of power behind your shot.
With all of the pressure going to ankle, this will permit you to focus all of your control with accuracy.
3. Keep Your Eye on The Ball
After relaxing your body and taking proper distance from ball, now making sure your eyes are connected to the ball at all times will make sure that your focus will always remain on your end product of this shot to score a goal.
Before kicking the ball for a shot, calculate your desired shooting time, spot and goal keeper position. While finishing your last stride, you should be attentive on the ball, this way you will be able to guide it in the required direction to take advantage against opposite team.
4. Your Last Stride Is Most Important
After completing aforementioned steps, make sure your last stride is the best calculated, as well as the largest. The next step is to kick a soccer ball with calculated power. This way, your largest stride will support you in bringing your body into the exact position to swing your rear leg through to the ball.
5. Bring Back Your Leg Instantly
While performing the previous step, you should bring your shooting leg back as distant as possible. Once your leg is in the accurate position, it will permit your stride to gain momentum and power.
A continuous practicing will make perfect this step. Practice will allow you to improve your shooting skill significantly, will increase your flexibility.
6. Use Arms with Your Motion
Using of your arms in a swinging motion while you are making contact with the ball, it will do wonders for your movement.
Motion of your arms is very important to kick a soccer ball with power; this should come naturally, but used completely to improve your power, as well as your balance.
7. Position Your Body at Correct Angle
Keep your body at an angle that is opposite exactly where you want the ball to go. As a mistake that is often made, you may not be able to kick the soccer ball in required direction. Practicing of position your body at correct angle is something that will come with time, but being aware of this is a simple yet critical step toward a perfectly powerful shot.
8. Your Knee Comes First
The following step to kick a ball with power and accuracy is to allow your knee to come first once your kick has begun.
This technique will allow the momentum to build into the last second of the kick, as you let your foot to be the last step to complete the kick, extending all the way through to the ball.
9. Strike the Ball with Correct Part of Your Foot
Always use sole of your foot to produce the maximum amounts of force and power behind your kick. You will be able to obtain your preferred shot with this type of kick because it will warrant your kick will be straight and power-driven.
10. Follow Through Completely with The Kick
Last and most important step of shooting movement as each of the rest of the steps, if not more so, our concluding step to kick a soccer ball with power is to follow all the way through. Although this rule is repeated continuously and heard by every soccer player, truly following through with your kicks will create a massive difference in your power and accuracy.
Never stop your movement once you have made contact with the ball. Imagine that you are kicking through the ball, and your end product is to complete the kick action, rather than to strike the ball. And lastly, land on your shooting foot.
How to Kick A Soccer Ball in The Air?
While you kick the soccer ball out of the air it's called a volley shot, often directly from a pass. Volley shots or kicks are performing around the goalpost or crowded area in the ground. Kick the ball in the air is not an easy shot, but it is very difficult for the goalkeeper to stop this shot.
Kick the soccer ball in the air required a lot of concentration practice. To accomplish this action you must watch the ball all the way in the air to make contact on your foot. This shot requires a lot of practice, which result into a lot of goals.
How to Shoot A Football Long Range?
Shooting a ball long range in soccer is difficult job, but consistent practice can increase your expertise. If you're facing trouble to reaching proper form while shooting, consult with a professional coach or watch videos of professional soccer players.
Watch the videos carefully and observe the movements they make to achieve long range and power shots. To master this skill takes a long time to get better. Just emphasis on practicing your shots correctly and maintaining accuracy and over time your ability to shoot a ball with power at a distance will improve.
While shooting soccer ball for long range, plants your non striking foot approximately one foot away from the ball and keep that leg a little bent. Now lift your shooting foot behind you force it forward while keeping your toe downward. Your shoe laces should touch below the midline of the ball. Complete follow through action with your leg.
You must shoot the ball from a point at which it is easy for you to hit the target consistently and correctly. Naturally, this will be in the center of the field a few meters distance away from the net. Shoot continually from that location during practice, each time targeting at a specific area of the net. Shoot ball several times towards the top left corner, then go to top right, the bottom left and then concentrate on bottom right.
Once you mastered it through constant practice and execute these shots precisely, move away from the net to increase the distance that makes it more difficult for you. Now stay at that distance until you will improve your shots and move farther away.
Once you have covered maximum distance, it's time to improve how to shoot the soccer ball at an angle. When you are just facing the center of net, you have extreme flexibility to selecting your shot location.
But if you are standing little off to either side, the extent of open area that's available for targeting decreases, resultantly difficult to score goals. Practice a lot to taking shots from distance and at an angel to the goal. For example, generate the shots that are far away from the net and at an angle to the goal.
Ask a friend to play as goal keeper for helping you to make your targeting chances more realistic. Envision the open area of the goal and shoot towards it. Move farther away to shoot the ball as you make improvement in your skills.
Kicking the ball for long distance is not easy, so you might be willing to use the tip of foot to give some more distance to your shot. Kicking with the points of your cleats does send the ball far away, but it is difficult to maintain a consistent, accurate shot when you shoot the ball this way. The proper way to shoot long –range is to use the instep kick to liftoff the ball towards target. It is not easy in the beginning of practice, but over time you will improve accuracy as well as distance.
How to Shoot A Soccer Ball with Curve?
Curl or bend to a soccer ball is to putting spin effects on the ball which makes the ball move in a curved or bend path. While kicking the ball, the inside of the required foot either left or right is often used to curl the ball, but this can also be obtain by using the outside of the foot.
Retired British soccer star David Beckham's is globally famous for his curl shots and a film was also made "Bend It like Beckham." While kicking soccer ball maybe won't make you as prominent as Sir David, with practice anyone who can strike the ball soundly can learn to increase the spin necessary to curve the ball through the air.
Keep the ball on the ground so the inflation valve points in the direction that you want the ball to curve or bend, if you have time to set up for a free kick or corner kick.
Now be ready to take your shot, mark a spot that is slightly to the side of the target goal, keeping into mind the expected amount of curve.
Select a panel on the ball to aim for kick. Target your kick for the bottom-right of the ball's center to curl the ball left; aim bottom-left of center to curve the ball right. look at the marked ball panel as you approach for the shot.
Take two solid steps toward the ball and plant your non-striking foot to the side of the ball.
Strike your foot toward the targeted corner of the ball. Strike the ball with the inside of your foot, keeping your ankle locked in place as you make contact with the ball.
Drive your foot straight through the ball to keep the shot low. Avoid swinging your leg upward on the follow through to achieve beneficial curve shot.
How to Kick A Soccer Ball with Power and High?
To get height while shooting a soccer ball you need to put your foot under the ball, so that you can elevate it off the ground easily. Ensure your non-striking foot is planted not too away from the ball to give you support, also ensure it is pointed in the direction you are going to kicking in.
Practice this with less power first, so that you can acquire the technique. After you feel confident to perform this technique, start kicking the ball harder. Select a target that you want to hit, when you hit it a couple of times, move the target further away. This will help you to achieve accuracy and control on the ball.
The rule of success is practice, as much as you can and then practice some more.
For technique, you should use your inner foot joint where your toe meets your foot. This will give you more accuracy to kick the ball high in the air. The area right behind your big toe gives you power for striking the ball in right way.
Lastly, If you want to enhance your power strikes and perform remarkable strikes,,, As a soccer player you must also need to focus on the improvement of acceleration as well. Because acceleration give you the attacking confidence in soccer.