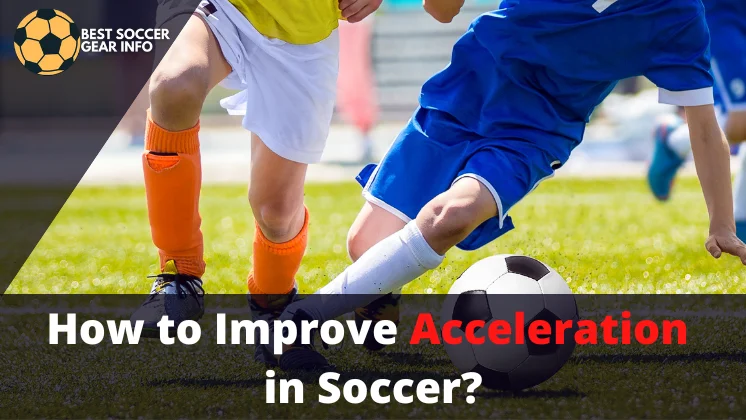 Today soccer is very different as it revolves around speed and acceleration is the main element of speed. Soccer has become a game, much faster than ever. Therefore, all players must know the ways to improve acceleration in soccer.
What Is Meant by Acceleration?
In soccer, acceleration speed is the initial movement before a sprint. It is used only for the first few meters but it has very positive results and gives an advantage to the attacking player.
Which Factors Play A Role in Acceleration?
Every human body has certain limitations, similarly it applies to speed in soccer, which can also be improved to a certain extent. But the main contributing factors for a soccer player are genetic prerequisites, body structure, and muscle fiber distribution. According to soccer experts, these factors account for 80% of speed and acceleration.
Also, in the distribution of muscle fibers, the "FT fibers" are very important. These fast twitch muscle fibers have the ability to react very quickly that is developing high voltage.
In addition to the physical elements of the body, responsiveness is another vital factor for acceleration. It makes a player able to react quickly to certain situations and prompts during the game. Because it is the need of the game for the rapid execution of important strokes.
However, that doesn't mean you should focus solely on acceleration. According to expert opinion, acceleration can be increased by approximately up to 20% and your training should not be integrated with it on a regular basis. Because a 20% improvement is enough for a big difference, at any level.
How You Can Increase Your Acceleration Speed?
To improve your acceleration training, you will first need to start with some basic warm-up exercises for 5-10 minutes. Then, without any breaks, you need to start your sprints, acoustic and visual movements. The main purpose of warming up is to ensure that you can perform your workouts in a state, free of exhaustion.
Here one thing is important that each and every one of your workouts must be absolutely full of dedication. After 100% dedication, you should take a break of at least 1-2 minutes between each action.
When training the acceleration speed, it is necessary to carry out every action with absolutely 100%. It is therefore important to take a break of at least 1-2 minutes after each action.
Exercises for Acceleration Training: –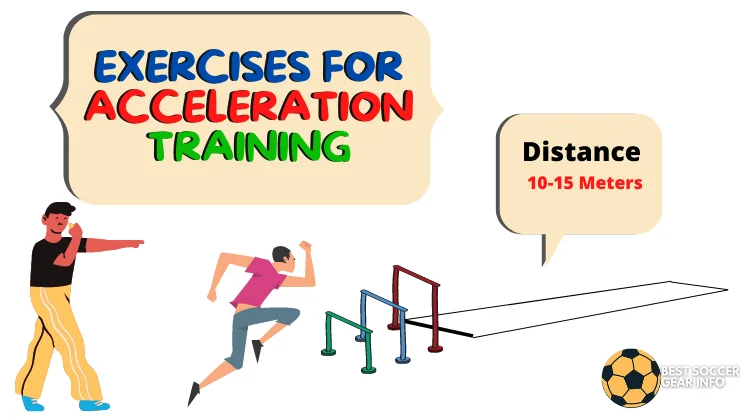 Exercise 1: Sprint After Acoustic and Visual Signals
Although you can perform certain trainings without a partner but for successful acceleration training you must need a partner. By adding acoustic and visual signals in soccer trainings, we train our ability to react at the same time.
Before starting mark a distance of 10-15 meters.
Your partner stands behind you for giving you starting signal with the help of claps or whistling.
Your partner stands in front of you for starting signal.
Start sprint after each signal.
Perform this exercise for 5-10 minutes and then get a break of 2 minutes.
Exercise 2: Sprint After Jumps
After first normal exercise,,,
Place three hurdles in the front of marking.
Repeat 1st exercise for the same duration but with the addition of jumps.
After doing our first exercise, adding jumps in the second exercise produce a stretch in the leg muscles. With pre-stretching our muscle stores kinetic energy. This energy when released it gives us tremendous boost during the concentric phase and acceleration.
Incorporating Strength Training for Youth
Age is another factor in speed and acceleration training. Younger players get more upgrades compared to older ones, especially players under 10 years old perform better. Achievement of success through training for older soccer players remains low compared to youth.
Youth ages 15-17 can achieve set goals for their muscle strength through acceleration training. Whether it's upper or lower body strength training, it has a more positive effect on movement speed and acceleration.
Conclusion
1. Always warm up before training for acceleration.
2. Do the exercises shown above.
3. Always perform each action in a rested and pain-free state.
4. Only do a maximum of 8-15 passes per day but consistently.
5. Minimize contact with the ground as much as possible during the sprint.
6. Combine jumps and acoustic and visual signals in your training routine.
7. If you are younger, incorporate strength training to improve movement speed.
8. Give 100% in every action because it will surely bring you success.