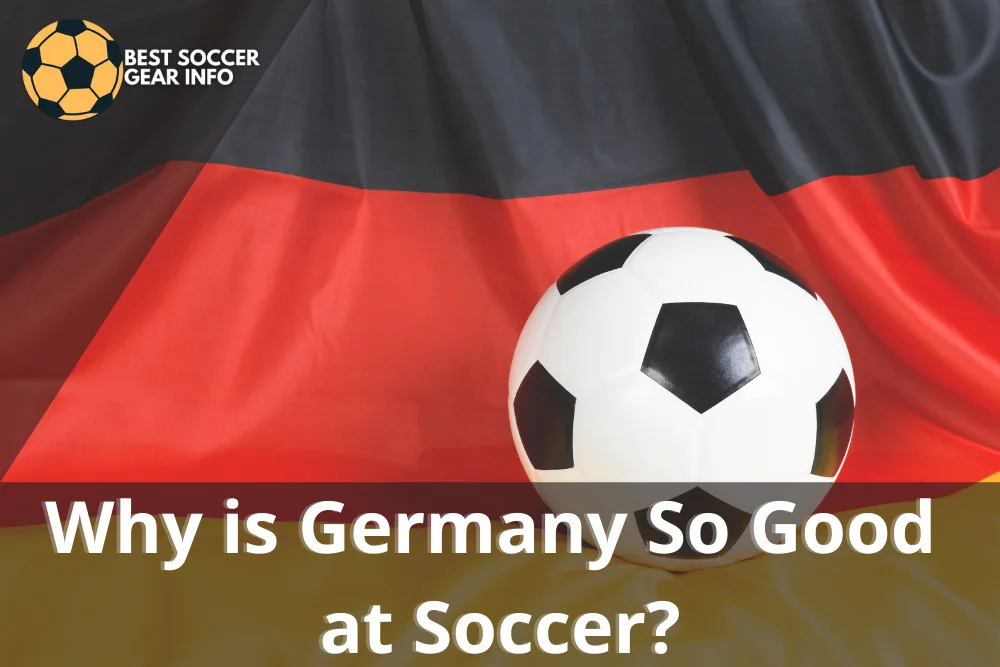 Know about the reasons behind that why is Germany so good at soccer? and why is soccer popular in Germany? Also learn about the soccer culture in Germany, teams and Best German soccer players of all time.
When we discuss about the soccer's teams in the world, there are many good teams like UK, France, Brazil and Argentina etc. German football team is one of the best team of the globe.
There are many skilled players in different team. Many countries teams are consisting of good players both technically and physically, however, on top of all that German soccer team plays with a virtually cold-blooded mentality that's attracting the attention. Each player is set with specific role and he is calmly fulfills his role. When situations arise, they can play with ice in their veins.
In this article we will know about the different aspects of German soccer team, club structure, football in Germany, all time famous players and the achievements of German football team.
Soccer in Germany
The Soccer is the most popular sports of the world and as well as in Europe. Germany with population over 80 Million being one of the epicenter of soccer, and is naturally a popular destinations for footballer around the world.
More powerful game attitude, more people, more players and better infrastructure make the Germany lightening star of football.
Undeniably, current statistics indicate that there are more registered coaches in Germany (34,970) than any other country. England has just 2,769 coaches, too less in comparison.
In the season of 2017-18 472 different players appeared in the Bundesliga, of those, 212 players were German, which equals to approximately 45 per cent. Compare that to England for the same period; only 31 per cent of all players in the Premier League were eligible to play for their national side.
Germans start training from a very young age. They get top quality of training in their schools, clubs and cities. Football is a most popular game of Germany and people are very aware about this sport.
This country has a world class league i.e. Bundesliga and players from around the world to play there. So that unique and top class setup helps the German team and you can observe that in every major tournament they are almost in top four.
Football Culture in Germany
In various countries, watching a game of the distinct nation's favorite sport is an excellent way to come nearly acquainted with the country you are visiting. Germany is no exception to this rule, as each weekend, the game of football (or soccer) turns atheists into religionists and quiet persons into raging sympathizers and has the implicit to let overgrown men and women cry like children.
Football stadiums across the country are the main draw for hundreds of thousands of followers each week, celebrating their sides' conquests as well as long- standing battles between specific competitors.

The main season generally lasts from August through May and in addition to regular season games, there are title games, European cup matches and the nationwide team's games, either friendlies or qualifiers for one of the coming global competitions.
Bundesliga, but there are countless additional leagues below that position, going all the way down to one village playing the neighboring one in all of Germany's regions. Children may start playing the game as early as at age 5 or 6 and in the recent times, women's soccer has progressively gained further attention, thanks in part to the successes of the Women's national side and the World championship hosted by Germany in 2011.
The Men's soccer team has qualified for all World and European championships in history except FIFA world cup 2018 and has won the World title four times, in 1954, 1974,1990 and 2014. Germany hosted the World Cup in 2006 and in preparation of this mega event; numerous stadiums were moreover erected fully new or have been streamlined completely.

Bundesliga is extensively considered to be one of the strongest leagues in the world. Eighteen German local contested for the title of German champion, with each side playing each other twice as per season, away and formerly on their home ground.
Tickets generally start at around 20 Euros and can go all the way up to several hundred Euros for high- profile games. However, it's advised not to choose the cheapest tickets as these will put you right in the middle of the fiercest sympathizers-which isn't an environment well suited for a family experience, if you're planning on a coliseum visit and aren't familiar with the German addict culture or go with family.
The truest fans consider it their duty to chant and cry over the full time of a game and occasionally, the atmosphere may turn sour among these fans, especially since beer is vended in all German stadiums. A coliseum experience as a whole, still, is a great thing for the whole family and there are some stadiums which feature an area of seats designated for families.
German Style of Football
If we want to choose a soccer team on characteristics of its country, Germany would be the first choice. Competent and well organized, the Germans play a disciplined, hardworking style of soccer game which makes them competitors in almost all the tournaments.
Making use of the significant physical stature of the players, German soccer team often depends on raw physicality. Many game skills like crosses are often swung in to tall target-men, who can increase aerial control using their height, or use their stature to block the opponents.
The well-disciplined team which is to say, each player has a definite role and follows to this role firmly. It's rare that Players are playing out of position, everyone in team keep himself within ranks and formations.
Improvisation is very less, with direct attacks on rival's goal post is the usual method of going forward. The style is not mostly good-looking, but the fact that it is pitilessly effective cannot be denied.
Deliberately, the 2014 World Cup saw the Germans play the counter attack game to complete excellence. With strength at every position, the German's were able to immerse up pressure from opposite teams and counter-attack quickly with fast, highly skilled players leading the charge.
They win the title for fourth time with Early and often, the German's put on quite the display of attacking soccer. That's the reason why the German team is at the top of scoring in almost every tournament.
Germany Best Soccer Team
Baryon Munich is the most successful soccer club in Germany, with an amazing total of 29 league titles, 20 DFB Cups and five UEFA Champions League titles, as well as a collection of other domestic and continental trophies. But what makes them outstanding from the other famous counterparts of the game – Real Madrid, Barcelona and Manchester United – is the complete enormity of their fan base.
The Bavarian colossuses have more than 290,000 official club members, which is 100,000 more in number of fellow European heavyweights Benfica and Barca. The other rivals in Bundsliga like Borussia, Dortmund and Schalke have less quantity of members.
This is all possible you make merit base decisions in selection of players. Your team work hard to reach the top position and all this happen with Baryon Munich. Although they start this current season of 2021 in lousy way but they gain momentum and fight back very soon.
Why Is Soccer Popular in Germany?
Germany does not need any introduction, when it comes to sports. Germany needs no introduction when it comes to the sporting community. Sports are so much popular in Germany that about forty million Germans citizens either a member of a sports club or following sports activities individually.
No doubt that Football is at the peak of popularity than other sports in Germany and indeed this country is one of the superpowers of football internationally. Germany has won the FIFA World Cup four times and has hosted it twice in1974 and 2006. They are the three time winner of UEFA European Championship in1972, 1980 and 1996 and hosted it in 1988. The German Football Association, with number of more than 6.3 million members, is the largest sports body in the world. Germans simply love the football game like their children
Best German Soccer Players of All Time?
Germany has produced many great players over in the history of football. Here are we will discuss three of the best.
Gerd Müller
Franz Beckenbauer
Oliver Kahn
Gerd Müller
Gerd Muller is also known as "The Nation Bomber", was a reputed penalty-box striker, scored 68 goals in 62 games for the national side, included in the winner team of 1974 World Cup Final.
He is the record holder and top scorer with 566 club goals for Bayern Munich and claims the best goals-to-game ratio in the European Cup with 34 goals in 35 games. He is widely recognized as one the greatest goal scorer in the history of soccer and was famous for his solid finishing.
Franz Beckenbauer
Beckenbaur is one of greatest player in the history of soccer. He was included himself in the list of few men, who winning a World Cup both as a captain and then as manager. Beckenbauer began his sports life as a midfielder, before he was dropped further back into the libero role, a position he helped define. He won the world trophy in 1974 as a captain and in 1990 as a team manager.
That would see him the furthest back when his team were defending, but then he would step into midfield when they had possession to create the extra man.
He won 4 Bundesliga titles and 3 European Cups as member of Bayern Munich.
Oliver Kahn
Oliver Rolf Kahn was born on 15 June 1969 was a great German football player of all times. He was the best goal keeper of his time across the globe. He started his career in 1975 as the member of Karlsruhe SC junior team.
In 1987 he was selected as national team player to represent the German team. He was transferred to Bayern Munich in 1994 for the fee of DM 4.6 million. He played for Bayern Munich until 2008 up to end of his career.
He earned his nickname as The Titan from press and Vol-Kahn-o ("volcano") from his loving fans. He is the greatest player of recent past of Germany who won eight Bundesliga titles, six DFB-Pokals, the UEFA Cup, the UEFA Champions League and the Intercontinental Cup in 2001.
He is the only goal keeper in the history of football who won the Golden ball in 2002 world cup. Now he is performing the duties of CEO of Bayern Munich.