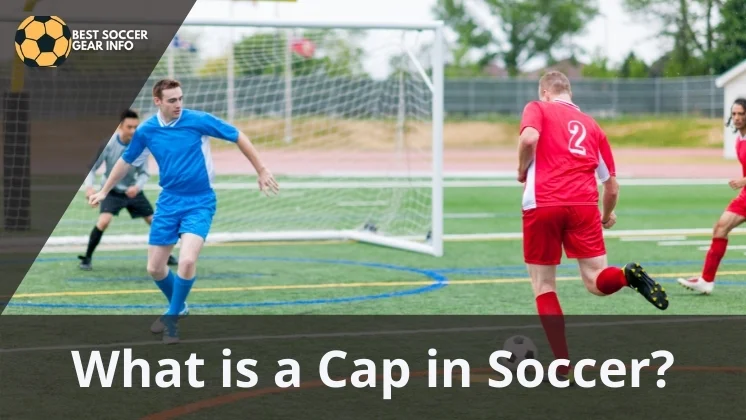 Learn about what is a cap in soccer, the history of soccer caps and its holders. Also get familiarize about the rules & ways that how you can become a soccer cap holder for your national team.
If you are a soccer enthusiast and wanna to know about "what does cap mean in soccer"?
If you like to know about the most international caps holder in soccer history?
How to become a soccer caps player?
This article contains almost all the information, meaning, history, about soccer caps and guidelines on how to become a football cap holder.
What is a Cap in Soccer?
Athletes who participate in football matches and represent their country in sports are called "caps". Whenever you hear that a soccer player earns a cap means that he represents his country in an international game. If a player claims 50 caps, he has played 50 times for their country. It is a proof of a player's skills if have a lot of caps for his country.
After reaching the necessary milestones, the player will also be awarded a physical cap as a symbol of pride and performance. The milestone of a football game may be different, it can be 50 or 100, but not after each game.
Soccer Caps History
In early days of soccer, heading the ball was less common because of the weight of the leather ball and so wearing of hat wasn't a strange of idea. Then the embroider caps were given to players containing information's about teams, date, score, and country.
The first international soccer match was played in 1872 between Scotland and its old rivals England. Only about 4,000 people were in attendance to see a 0-0 draw between the sides. In this match Scottish players worn cowls and English players kept school caps. This was considered the first international soccer match and thus the first occasion for players to earn a cap.
Nicholas "Pa" Jackson was the first person who raised a proposal to award the players with caps on their international appearance in 1880 for English players. He was founder of many football clubs and London Football Association. So English players were presented with white silk cap with red embroider rose on front.
Either male or female players' federation may award them a commemorative cap for the occasion. A player making his first appearance may get a physical cap to commemorate their inaugural match for his country.
In the initial history of soccer, players always worn caps, cowl or hats during match, because there was no head play due to heavy leather ball.
How to Become A Soccer Cap's Player?
If you are one of the best soccer players in your respective country, get the attention of your national team selectors, maintain good form, keep yourself injury-free, perform well in your national league games, and then you may be selected as one of the 11 best players from the national pool for a game.
The usual procedure looks like: being acknowledged from a pretty young age as a prospect within your national team pool of players. Then you would need to be playing real games for your club side against real opposition as opposed to just performs or struggles.
Then your performance would need to get the attention of national team coaches and selectors. Once you have caught their eye, must continue hardworking to impress and deserve a call up to different national team youth camps and represent your country at youth levels.
As long as you work hard to grow and developed skills, you will be invite to play in senior national team camp. Once you prove your skills and game tricks in your given position, you may deserve starting your career. As you become the part of playing squad and start game-you have earned a cap!
Factors for Being Not Capped in Soccer
Sometimes players became seriously injured and can't recover or fell into clashes with team management and stop being selected; therefore, they miss their chances for selection. On other hand you may be not best performer on your position, because some guys of your nation have more talent than you for that particular position.
You may be better than 90% of the people on earth but there are 2-3 guys in your nation who are just a little more capable, versatile, or reliable than you and that is all it takes to not be a starter. There are lot of players having great skills but don't play for their country, they are too much busy for playing in clubs and leagues. Some of them have few or even no caps for their national team. Many players like Paolo Di Canio, Mikael Arteta, Steve Bruce and othersnever played for their national team same happen with countless others.
Can A Soccer Player Play for Two Countries?
Maybe you are one of the best players in your country and in your position to have a chance. So naturally then subsequent question could be, "Well why don't you only play for a less stacked country?" that's an option!
Technically yes, but it's complicated. You see there's such a thing as being caped meaning you've got represented your country during a significant game (i.e. not a friendly).
The International Federation of soccer (FIFA) is the governing management for soccer and in their rules (sections 5-8), we get the less written directions regarding eligibility.
Section 5.2 states: "…any player who has already join in a match (either fully or in part) in an official competition of any category or any sort of football for one association might not play a world match for a representative team of another association."
Things changed within the world, as they often do, and new scenarios emerged that made FIFA introduce methods for players to play for an additional country.
One example is that the shifting of the geopolitical landscape of the globe. Before my lifetime the Soviet Union (USSR) and its holdings were dissolved, Yugoslavia broke up into two different countries, Kosovo became a FIFA-recognized country, and every one of that happened within the last 30-40 years!
So, FIFA had come with a plan for players who had represented country like the USSR after it's disbanded. And they wanted to play for the native country.
The other example may be a player who was born in one country but moved to a different country and becomes the citizen of later and can play for his new country. One of the examples of near past was Jonathan Gonzales, who was born in Mexico and moves to USA and participates at youth level. However, his parents were from Mexico and he was eligible to play for their country since he had not yet represented the USA at the senior level. His selection for Mexican team to inaugural his soccer career meaning that he was not in consideration for call-up in US men's team.
This phenomenon has grown in recent years with the emergence of "dual nationals", for example the players whose family ancestries allow them to be eligible for multiple national teams. Young shining star Yunus Musah is one example of this. Musah is eligible for Ghana, Italy, England, and therefore the United States. He has represented the US during a senior match but it had been only a friendly so technically Musah wasn't able to earn cap. Like situation one can leave the effort to be part of team of that country and make efforts to start his international career from other nation. After receiving cap from one country player cannot switch again from any other country in any circumstances.
Most International Caps
To represent your country on the international stage may be a tremendous honor but to try so for several years and in many competitions is yet one more level of honor. Typically, a country's all-time appearance records are topped by truly phenomenal talents who started young and played long into their twilight years.
Most often these players are goalkeepers or defenders who still deserve selection even though their physical abilities lack to an extent because they had experience and leadership qualities to lead the teams. The hallmark of these players shares no matter position is their consistency. Through ups and downs in their careers, they always proved their worth to the national team.
On 3 Oct, 2021 total of 568 players have been appeared in 100 or more international competition. Billy Wright of England was first player who earned first 100th cap in the history of soccer in 1959. He played 105 total matches and 90 times he led his team as captain.
 As per record of FIFA, Soh Chin Ann of Malaysia holds the men's all-time top position with appearances in 195 matches and According to RSSSF, Soh Chin Ann also holds the men's all-time record by appearances in 219 matches.
Many players have represented their countries for several times but these 5 players got most soccer caps. Soh Chin Ann of Malaysia with 195 caps, Ahmad Hassan of Egypt with 184 caps, Ahmad Mubarak from Oman with 184 caps, Sergio Ramos of Spain with 182 caps and Cristiano Ronaldo from Portugal with 180 are players who received most number of caps. Here are the highest 5 Most Caps in Women's Soccer, Kristine Lilly of the USA with 354, Carli Lloyd of USA with 312, Christie Pearce of the USA with 311, Christine Sinclair of Canada with 304, and Mia Hamm of the USA with 276 caps.
On the Women's side, large number of United States citizens listed there and much more caps in soccer per person than on the men's side. This is due to large extent of that because the Women's game is newly introduced and was less competitive until recent years. The United States has much talent in woman soccer since FIFA began sanction the women's game. Additionally, most of those women receive their salaries from the federation instead of from their club side, in order that they are more opportunities of playing than the men are.
Throughout the career, women have played more international matches than their male counterparts. The women have also qualified for the Olympic Games frequently and have gone further therein competition than the men.
This was all about what is cap in soccer?
What do you know and think about cap in soccer? let us know in the comments about your thoughts,,,,, Thanks